While on the surface eating the nutritarian way sounds like mostly salads, raw veggies, and fruits, there is actually a lot of potential variety in meals.  I'm a huge salad person, but even I would grow tired of that.  Luckily I'm also a big soup/stew person, and the Eat To Live book has several of those recipes.  The one that I decided to try first, since it jumped right out at me was the Black Forest Cream of Mushroom Soup,which can also be found at Furhman's website here.
The recipe has tons of ingredients but none of them too exotic or hard to find except for the carrot juice.  I tried Wegmans and they had nothing even resembling that in either the health food section or the juice section.  I did find a no-added sodium vegetable juice that is primarily tomato, followed by carrots.  If you have a juicer you can follow their recommendation for creating the juice fresh.  I didn't, so I took this shortcut.  The other ingredient I couldn't find is his proprietary "VegiZest" spices.  I had already purchased some Mrs. Dash so I used that instead, but added it to seasoning gradually rather than going with his recommended amount of VegiZest (which was a good thing).
The steps of the recipe are spot on in isolation.  It's essentially you chopping a bunch of veggies, sauteeing some diced mushrooms, letting the veggies stew for half an hour in the almond milk and carrot juice.  After that you puree some cashews and almond milk then puree and mix half of the soup.  You then add the pureed soup portion with the non-pureed part, pour in the sauteed mushrooms, and then throw in some greens a few minutes before serving.
Did you notice something glaringly missing from the lists of ingredients or steps?  The salt.  For the nutritarian diet adding salt is verboten.  Sneaking salt in by using a vegetable broth, or V-8 style high sodium vegetable juice wouldn't cut it either.  Another thing you will find missing in the added oil.  I didn't elaborate on how one was supposed to saute the mushrooms, but it isn't with oil.  Instead you "water saute" which is exactly what it sounds like.  No added salt on those mushrooms either.  So with all this missing salt and oil, how did it taste?  In a word, delicious!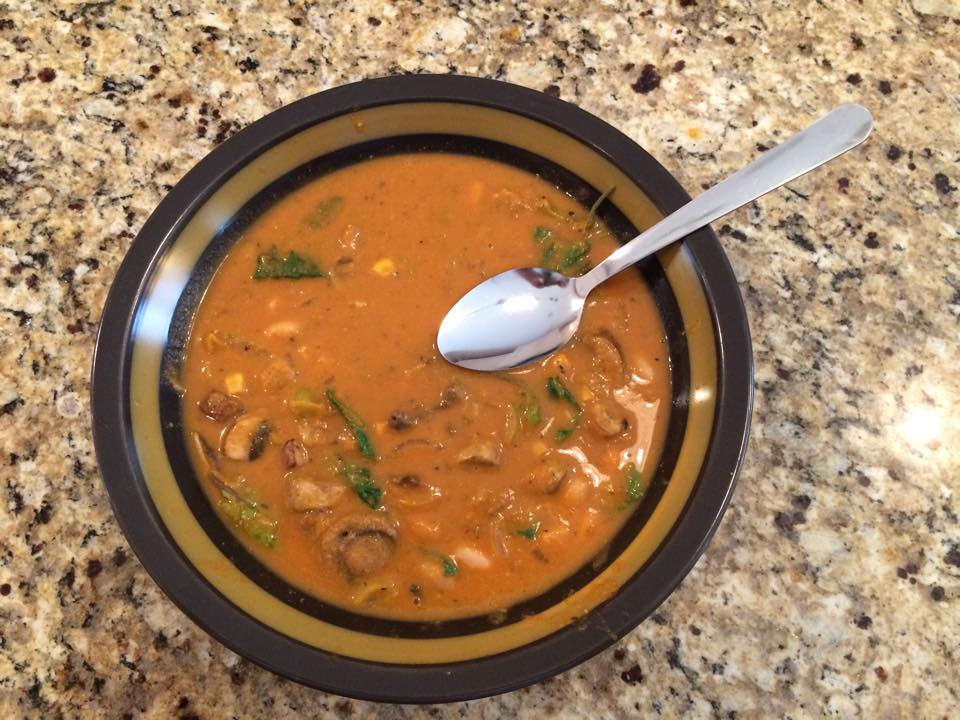 I'm not saying it was "delicious considering", it was just delicious.  You can obviously tell the salt is missing.  That brininess is probably the dominant flavor that we think of with soups and broths.  I've tried making low sodium soups before and invariably I add salt at the table because it just feels hollow without it.  This doesn't have that problem.  The combination of vegetables, beans, juices, and other spices make it so you don't miss the salt even though you know it's not there.  Good thing the serving sizes are ginormous for this too because I can eat a lot of it.  For reference, that's a tablespoon and a serving bowl for my "one serving" of soup.  One thing I'm learning about nutritarian eating is that you better have a huge stomach!
The recipe overall is spot on in instructions and tasty but when I make it again I'll do things a little differently.  I'll stick with the no-added sodium vegetable juice but I will try to get some of the VegiZest to see how that changes the flavor.  I will also flip one of the instructions.  Because the veggies need to cook down for half an hour it doesn't make sense to me to cook the mushrooms, set them aside, and then make the stock.  Next time I'll make the stock and then start on the mushrooms.  I'll still have twenty minutes left waiting for the stock/soup to cook down.  Lastly, I won't use the high power blender for pureeing half of the soup.  It's just too messy.  Instead I'll use the blender to make the cashew and almond milk "cream" which I'll then pour into a second pot with half of the soup.  I'll use an immersion blender to puree that and then put it all back into the main pot.
If all of the recipes in Eat To Live are this good, then I'm going to be buying the supplemental cook book for sure.