"Dream Horse" (2020) follow the a small Welsh town's naive attempt to make a go at breeding a race horse and having some beginner's luck thanks to the pioneering efforts of their local animal loving barkeep.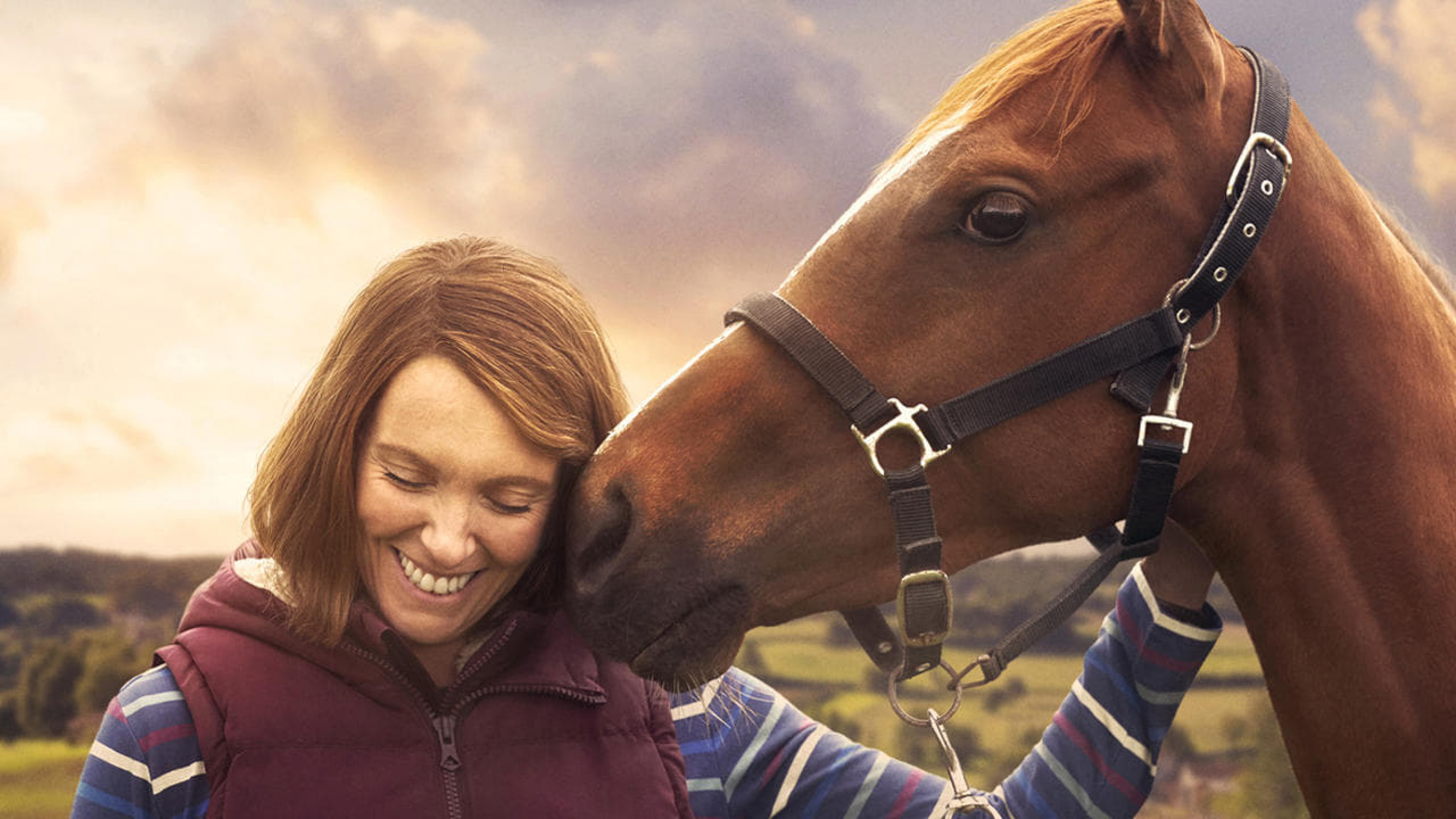 (SPOILERS BELOW)
We start our movie looking at the drudgery of life for Jan (Toni Collette ) in her small economically degrading Welsh town. At day she works at the local cooperatively owned supermarket when she's not taking care of her elderly parents and making meals for her couch potato husband Daisy (Owen Teale ). At night she works bar at the local watering hole/community center. She pines for her younger days when she won prizes for breeding show animals (dogs, birds) and went camping with her husband. One night a local businessman, Howard (Damian Lewis ) is in the pub telling tales of his days running a horse breeding syndicate (company). Although he lost everything in it, almost including his marriage and house, it still sparks a dream in Jan to maybe make a go of it as well. After some research and with little savings she and her husband have she buys a washed up mediocre mare that they hope to use to start said syndicate. She prints out fliers on her ink jet printer, convinces a handful of townspeople including Howard, to go in for ten bucks a month to make a go of it.
It is a real underdog story. Their town is run down and going down hill by the day as the local economy around them continues to falter. At every step they are looked down upon. She raised the damn horse on her community garden plot and ran the colt in some fields right next to it! She did her homework though, as best she could considering she never did this before. When she goes to buy the mare who has been pastured in an industrial looking area he says she was a champion Jan whips back with, "No she wasn't. I checked. But she comes from a good line." When she goes to breed her with a prize stallion who she also finds elsewhere for the pretty price of 3000 bucks. When the breeder sees the horse the look on his face says it all but he makes a snide comment nonetheless. When it's time to find a trainer Howard knows his way around that and she manages to land a top trainer but only after muscling her way through the process.
It definitely has some little guy versus the aristocrats vibes but in an uplifting way. In the first race the syndicate members scraped together enough money to get a bus there. They are rough around the edges people interacting with Lords and Earls of refinement. "How many are you" was a question asked of one member by the most prominent of owners at the affair, a real blue blood. He points to the group. "No I meant how many horses." Despite all of the derision they get at each step by everyone the horse turns out to have a lot of spirit and talent and goes far, but not without some stumbling blocks and hard decisions on the part of the syndicate.
I am not a big horse person but for some reason this movie really connected with me emotionally. The races scenes especially were done so well I really got sucked into them. If the emotional connection was just in the most dramatic scenes it'd be understandable but it went deeper. I really felt the transformation of the town and the characters as they picked up the energy of the whole series of events around this horse. All of the minor characters were executed well and I really got a kick out of them as much as the main characters themselves. By far my favorite was the local good natured town drunk Kerby (Karl Johnson ) and the widow Maureen (Siân Phillips ). I went through the same emotional journey they all did over the course of the movie.
I went into this movie as a "I have to see this for the challenge" not because I wanted to see it. I came away wanting to recommend this to people. I give it an 8/10.
PS. Stay through the credits for some cameo shots with the real life people behind it too. Yes, this is actually based on a true story.