Day 2 started off and ended better than Day 1 did.  I was certainly a bit more prepared, but it was still a bit trying due to a heavily compressed schedule.  What I'm looking forward to is trying tomorrow's new vegan burger recipe, but today's food was certainly tasty nonetheless.
My day started early with not enough time for me to make a full "Rip's Big Bowl" breakfast like I had planned.  That's basically the big bowl of various cereals and grains with nuts, berries and soy milk on top.  Since I was going to have to eat it on the ride to my first appointment I just ate the cereal portion dry in the car and left everything else out.  It was quite tasty but kind of like a dry granola.  It was still quite tasty, and amazingly sweet for all healthy unsweetened  cereal.
That wasn't holding me over until lunch but I didn't have too many options on the road.  Again, trying to avoid the whole processed food thing, but I ended up settling for a not so great for you but better than potato chips, baked sweet potato chips.  They were surprisingly good, so I'm glad I just had an individual serving.  Lunch was a veganized burrito bowl from Chipotle which had me quite full for the rest of the afternoon.
Making a veganized burrito bowl is pretty easy since Chipotle lists which ingredients are vegetarian and vegan on their website.  I love mixing it up so I literally took every vegan ingredient and put it all in one bowl: brown rice, black beans (the pinto beans are cooked with bacon), tomatoes, salsa, corn salsa, guacamole and lettuce.  All put together it adds up to 600 calories of very filling goodness, and since you don't get meat they give you the guacamole for free.
After my afternoon meetings I headed over to the Wegmans to get all the ingredients I need to make the meals for the rest of the week.  It's a lot easier to shop when you are eating a whole food vegan because you basically only have three isles and the produce section to shop in.  Granted I had problems finding miso paste and they split up some of the ingredients between the international section, "Nature's Market Place" and other sections but in the end they ended up being in a few convenient places.
By the time I got done my run it would be too late to do something too exotic, plus I had some pizza dough from last week that I had to use up.  Rather than do the usual one big pizza I made a vegan pizza for myself and a regular one for my partner.  Rather than cheese I loaded it up with baby portobello mushrooms and cooked spinach.  I was hoping to get time to saute both of them, but no dice.  A little extra seasoning on top made up the difference though.  I arranged the mushrooms on top of the seasoned sauce first and then put some spinach on top of that.  I didn't chop up the spinach because I wanted some of that "stringy cheese" feel to the pizza.  The spinach acts exactly like that.  With the huge piles of vegetables on top I can honestly say I didn't miss the cheese much at all.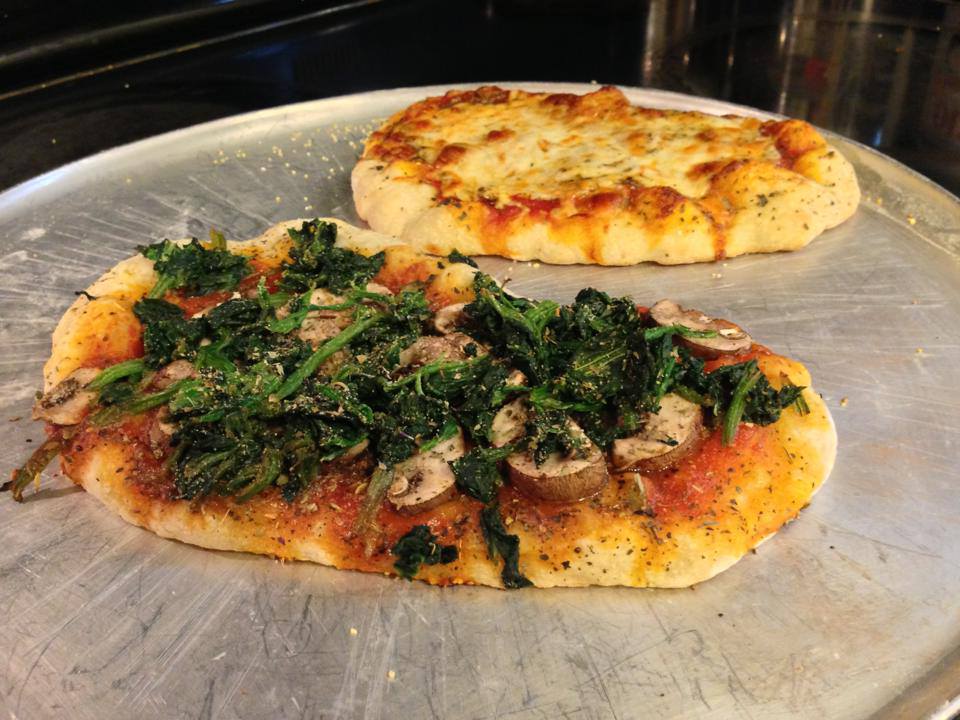 To round out my food for the day I had a small salad and then a bowl of mixed frozen berries.
That's overall pretty blah sounding but I felt fulfilled.  Tomorrow is the big test of these new vegan "burgers"