For many years I was like most people, where Christmas would surprise me by being in December and I wouldn't have enough saved up to buy presents for people.  So I did what any other red blooded American would do.  I whipped out my credit card, blew it up and then paid it down over the next few months.  Holidays are a lot like that too but with calories rather than dollars.  Up until a couple years ago I was in the same boat as everyone else.  I'd gorge on holidays, blow up a few pounds and then go on a diet to lose the weight.  I'm now in a different mode of operating, which means that whether it's good for me or not I actually plan my holiday feasts and save up for the occasion.
In another post I'll go into the details of how I do my calorie budgeting, but suffice it to say that Thanksgiving didn't "surprise" me as being a gorgefest.  I planned for it many months ago.  Since I have gotten good at tracking everything I eat, it isn't even too much for me to actually food journal what I eat through these sorts of feasts.  What was my original plan for the day?  I expected to eat 2000 calories more than I burned yesterday.   I had planned on eating extremely light before the dinner and then really go hard at the feasting, like I do every year.  That's pretty much what happened with some minor variations.
The day started with a brisk morning run on the treadmill.  I wasn't going to start my day running outside in 28 degree weather, that just seemed a bit too much considering I was running in weather almost 20 degrees warmer just a week or so ago.  Instead I did that on a treadmill at the gym, which was incredibly pretty much as packed as it would be any other Saturday.  After that I had some errands to run, which included a very nice pit stop at a friend's house to swap some ovenware for some fresh baked carrot cake cupcakes.  I had to test one, which was so good I ended up eating several more.  So, that kind of ruined the whole eating light except for the meal thing, but I'd say it was worth it.  I actually still ate my originally planned for breakfast of homemade yogurt, homemade granola and wild blue berries.  A few very small snacks was pretty much all that filled the gap between that light breakfast and the multi-hour feast.
We technically got started around five with a nice beer and an assortment of appetizers.  These were mostly a charcuterie of dried meats and various cheeses and crackers,along with a simple crudites.  The beer led to a glass of champagne followed by a red wine which began the dinner.  Dinner was a nice multi-course affair starting with some Crab Louie served in a silver coupe-style champagne glass.  That was actually a pretty light affair, basically lump crab meat with some marinade/dressing served on butter lettuce.  We transitioned to the next course after having a small serving of homemade fresh cranberry sorbet.
Then came the onslaught of food.  For logging purposes I take pictures of big dishes so that I can go back and tally up everything later.  I say that to apologize in advance for this Martha Stewart Twitter-esque shot: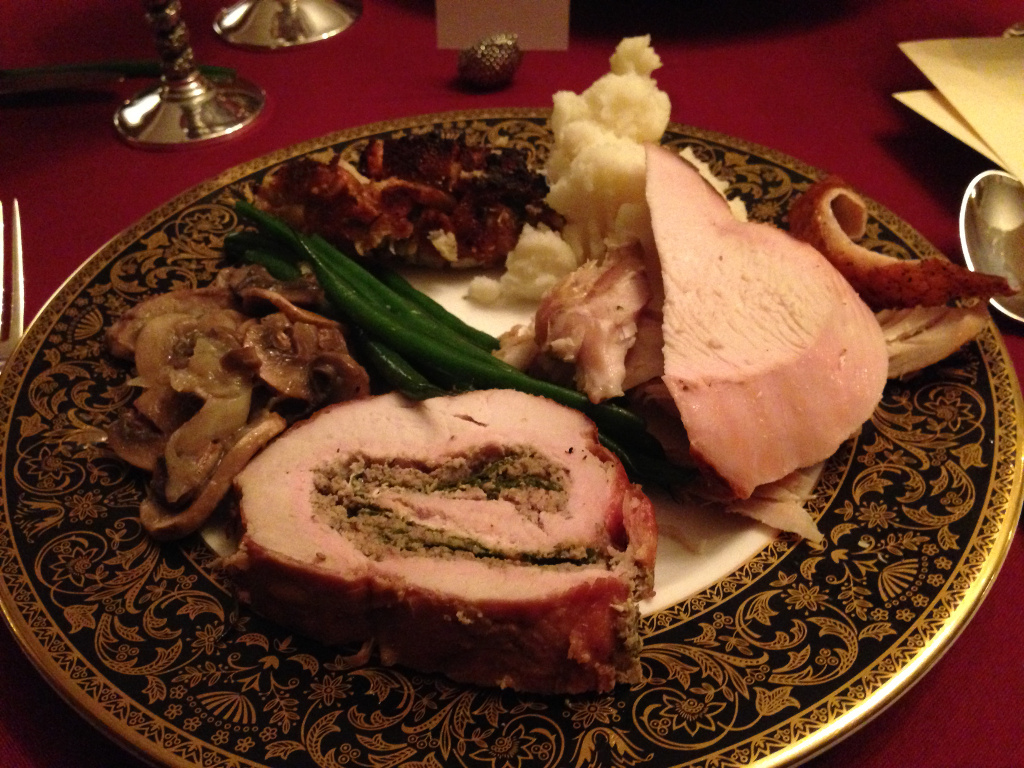 It's quite a variety of foods, and mostly pretty healthy (kind of).  We actually had three different kinds of meats to choose from, so I chose one of each.  There was a traditional turkey, a smoked turkey and a prosciutto wrapped stuffod pork loin.  We had green beans and sauteed mushrooms as vegetables along with some mashed potatoes.  There was also some stuffing to go along with all that.  Not shown are some very buttery home made Parker House rolls.  I had a little bit more wine, this time white to round out the sampling, to go along with all that food.  I ended up picking a little more as we cleaned up from dinner and got ready for the dessert finale (again apologize for the not exactly great picture):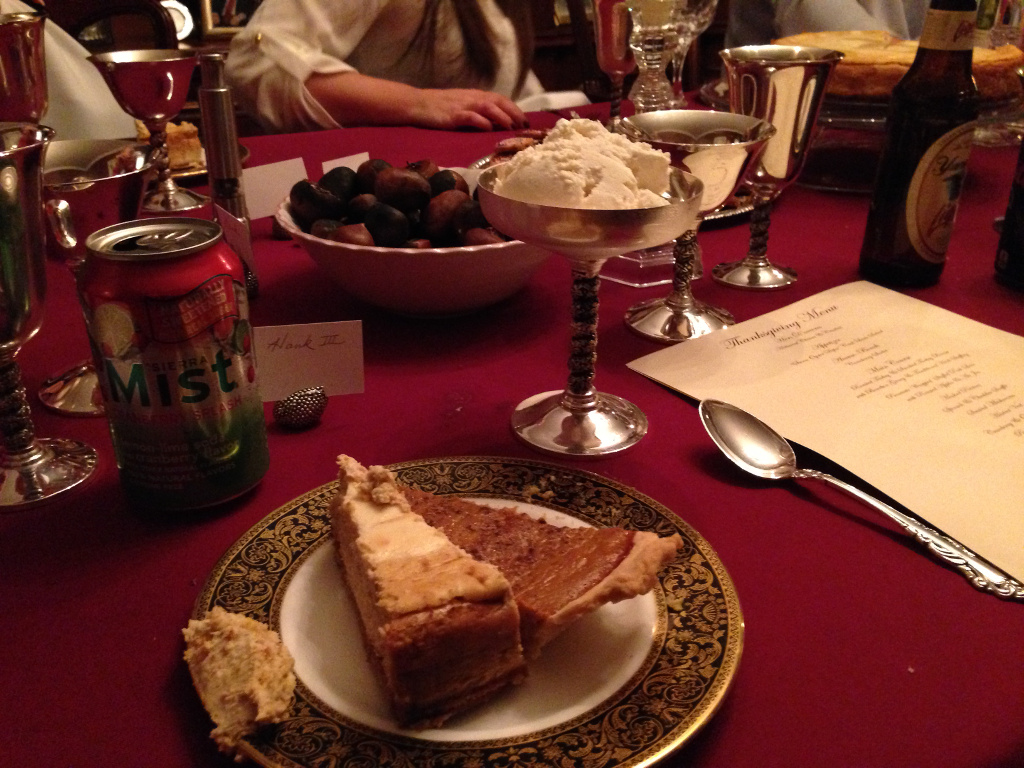 So again, I like to try everything. I didn't go nuts with the serving size but by the end of the dessert course I was definitely uncomfortably full.  In the picture is the homemade cinnamon ice cream, a slice of homemade pumpkin pie (with a crust I would love to be able to emulate) and homemade layered pumpkin pie cheesecake (by your's truly).  Not pictured are some gingerbread cookies, butter cookies and savory stuffing cookies.  Again, just one of each but that all added up.
By the end of the evening I was very uncomfortably full, and literally 7 pounds heavier (178.7 in the morning to 185.6 in the evening).  I hit the meal with a little over 1000 calories already eaten, and ended the day having consumed about 4600 calories.  The average Thanksgiving meal end to end is 3000-5000 calories, so that's about right.  The top contributors to the tally (in order): carrot cake (11%), pumpkin pie cheesecake (9%), stuffing (7%), ice cream (6%), turkey (6%) and white wine (6%).  I may have been over 100% on everything except vitamin D, but that included the not so great stuff.  That's things like 136% of the recommended daily value of carbs (not too terrible actually), 375% of the recommended daily value for saturated fat, and 320% for total fat.  That's a clobbering.
Again, I love my holidays and enjoy the spending time with family and friends eating delicious food that is of varying goodness for you.  There was plenty of good nutritious stuff mixed in with the pies and stuffings, but I make no illusion that it was a caloric and nutritional disaster.  You know what, I just don't care either.  It's good to just enjoy life sometimes (and if you are me, of course track it, trend it and analyze it later).
Happy Thanksgiving everyone!
UPDATE: I forgot to add how close I got to the 2000 calories over that I estimated.  Total calorie surplus consumed for the day?  It was just under 1900 calories.  Thank god I did that run otherwise I would have been more like 2200.