December has now come and gone and so has the year 2013.  As is typical for most people, including me, the year ended with a lot of excessive indulgences, holiday cheer (aka parties) and enjoying the company of friends and family.  It also ended with me completing one of my life objectives, running a full marathon.  Instead of a month of eating healthy and maintaining a new exercise regiment post-marathon, I instead fell into a regiment of working too much and eating too much crap food.  Thankfully the three months of JJ Virgin's elimination diet should provide the initial buffer that I was looking for to begin experiments.
The Thanksgiving holiday rolled right into the weekend of my first marathon experience down in Cocoa Beach, Florida.  I was fortunate enough to be able to catch up with some friends both in southern Florida as well as a few friends that were running the full and half marathon.  After the grueling five hour marathon (which I will be doing with much faster times, hopefully), I settled into several intentional days of not running or exercising.  The original plan was to beginning working out again a week later.  I'm now several weeks out and still just planning on getting working out again.  That will be remedied shortly, hopefully, but not through some overblown "new year's resolution" just about getting on a schedule to ramp up to the marathon training that needs to begin in July.  Having goals like a race are really the only thing that keeps me focused.
The food scenario likewise didn't go as well as I had planned.  I was always expecting that I would be splurging a little on the week after my marathon, and a decent amount at holiday parties and family events. Unfortunately I never really settled into a good tempo for the rest of the time, like I wanted to.  That means rather than "saving up" a little calorie deficit to make up the difference, what ended up happening is I just went full bore ahead.  That was fine until the week of Christmas, when the real feasting began, and then so too did a significantly fast increase in weight.  The charts below tell the story (as usual):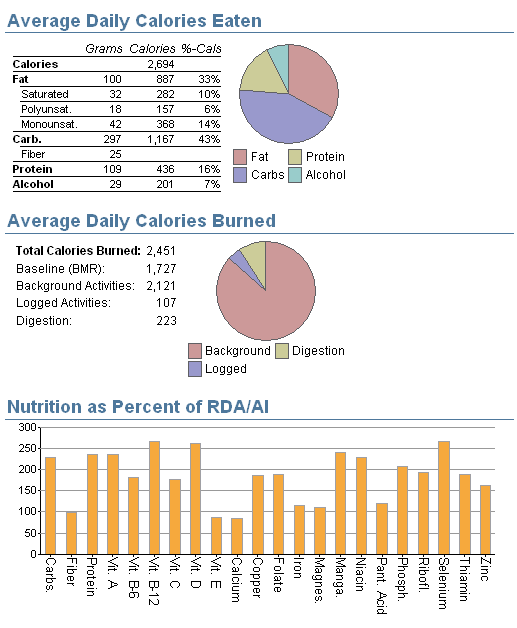 From a micronutrient perspective, over the month, I didn't do too bad.  With the exception of Vitamin E and Calcium, which were just below the recommended levels, I was higher than recommended levels on everything, unfortunately that includes carbs.  I was a bit heavy on the carbs and fat, and a little light on the protein, but still managed to get between the 0.5 grams and 0.7 grams of protein per pound of body weight that is recommended.  What were the foods that comprised the highest percentage of my calories this month?  This list is a bit depressingly bad (again), but: beer (5%), pizza (4%), sushi (3%), Nature Valley protein bars (3%), Chipotle Buritto Bowls (3%), Layered Pumpkin Pie Cheesecake (2%),  Gingerbread Men (2%), other general cookies (2%) and chocolate covered almonds (2%).  Combined they were still only a quarter or so of my diet, but it's still a depressingly unhealthy list, with the possible exception of the sushi and burrito bowl which are obviously dominated by rice.
Looking at the calorie balance, burn and weight trends and we can see exactly what the food and lack of exercise did and how fast: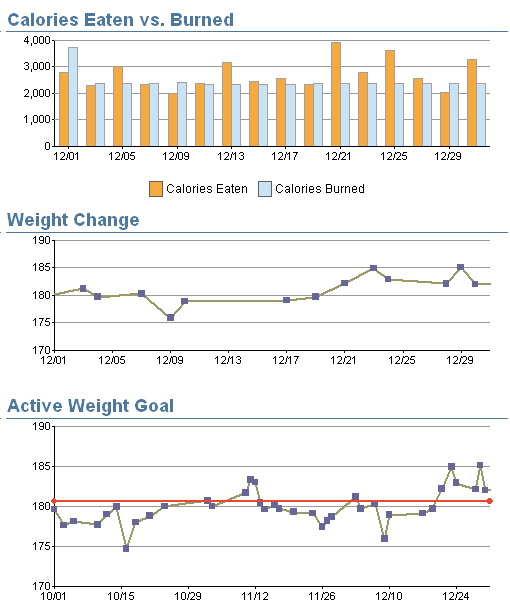 The top two plots are for the month of December, while the bottom graph is over the last quarter of the year (October, November, December).  In the "Calories Burned vs. Eaten" chart you can see the entire lack of exercise after the first week (the marathon week).  That should have ups and downs as the level of exercise changes from day to day.  You can also see where the big "feasts" were in the month.  A holiday part stands out in the 12/5 period, as do the obvious mostly upwards trend from the 13th on.  It's no surprise that weight too also started ramping up considerably, from my original weight in the high-170's to a weight in the mid-to-low 180's.  The really big blowups, like up to 185, are really just temporary from a combination of having a lot of extra food in my system and excess water retention.  However the end state is still a bit higher than it was mid-month, when the real binging began.
It should be remembered that in terms of calorie budgeting for the quarter, I always intended for there to be big calorie excesses in three areas: my vacation in Disney, Thanksgiving and the month of December.  The third chart above is what my weight should have done, picked up one pound over the three months.  I obviously didn't exactly hit that.  You can see the actual calorie changes per day (red squares) compared to the projected ones (blue line) to see how that played out: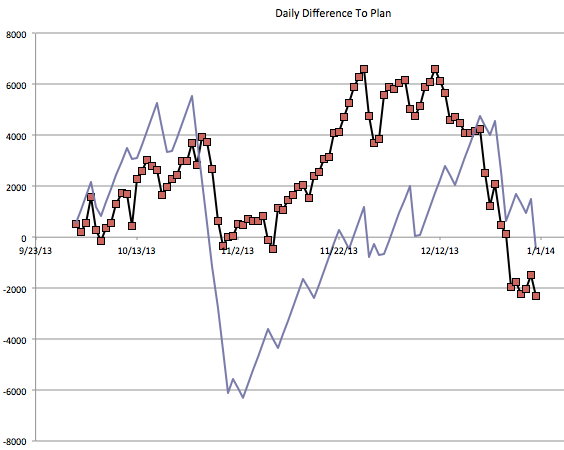 I obviously was expecting a much bigger drop off for the Disney trip.  You can see the little jaggies for planning to eat a bit more on the weekends, with the additional big drops for the holidays.  Unfortunately I really didn't have the focus I should have in December, and the big cliff off, to being almost a pound off what I was expecting to do.  So rather than leveling off around 180, I really am leveling off more like in the 181-182 range.  If I had exercised even a little bit over that period of time, say running 3-4 miles three times a week, I would probably have hit my numbers exactly.  Regardless, the extra fat should correct itself naturally over the next year.
To summarize, as I said in the beginning, it was not the best month for eating well or exercising.  I really just indulged more than I had even planned to, and didn't exercise at all.  If I was starting my first diet experiment this month as originally planned this would have been a bad thing, since it could have skewed the first diet's results.  However with the buffer period of the elimination diet, I will still be good to go.  I'm not sorry or guilty for how the month played out, I had a lot of fun times with good friends and family.  I just need to make sure it doesn't turn into a year of losing focus.
Happy New Year!