After a year of false starts, many written about here ad nauseum, but with maintaining my tracking of nutrition and fitness goals every day, I can say that this time around I've started off on the right foot on dialing in my fitness/lifestyle goals and getting myself back on track.
As I wrote about at the beginning of the year , I have my set of five fitness goals that I should be hitting every day to be squaring away with a Blue Zones lifestyle:
Eating well: mostly whole foods plant based diet with lots of greens, fruits, and veggies
Sleeping well: for me that's 7-8 hours a day
Moving a reasonable amount: 10,000 steps a day or equivalent
Keeping strength up: calisthenics (5+ minutes) or yoga (15+ minutes)
Living mindfully: daily meditation, at least 15 minutes
I had some success in nailing this down in the end of January and into February but I allowed life to get in the way, or more exactly be excuses for not following through.  As I came back from a long business trip at the end of June I decided to redouble my efforts and approach this in a more week to week method.  With the first week of July being a holiday I figured it was a good way to get things started, and I turned in a solid performance.
Each day I grade myself on each of the five elements using a standard school GPA scale, 4.0 is a straight A to 0.0 is an F.  As I said, while I haven't been adherent to my plan I have been adherent to tracking and trending my grades.  Last week was by far the best weekly grade I've gotten this whole year: 3.91, a solid A-.  The best I've hit so far is a little over 3.5.  I'm stoked about that, especially considering my performance so far this year: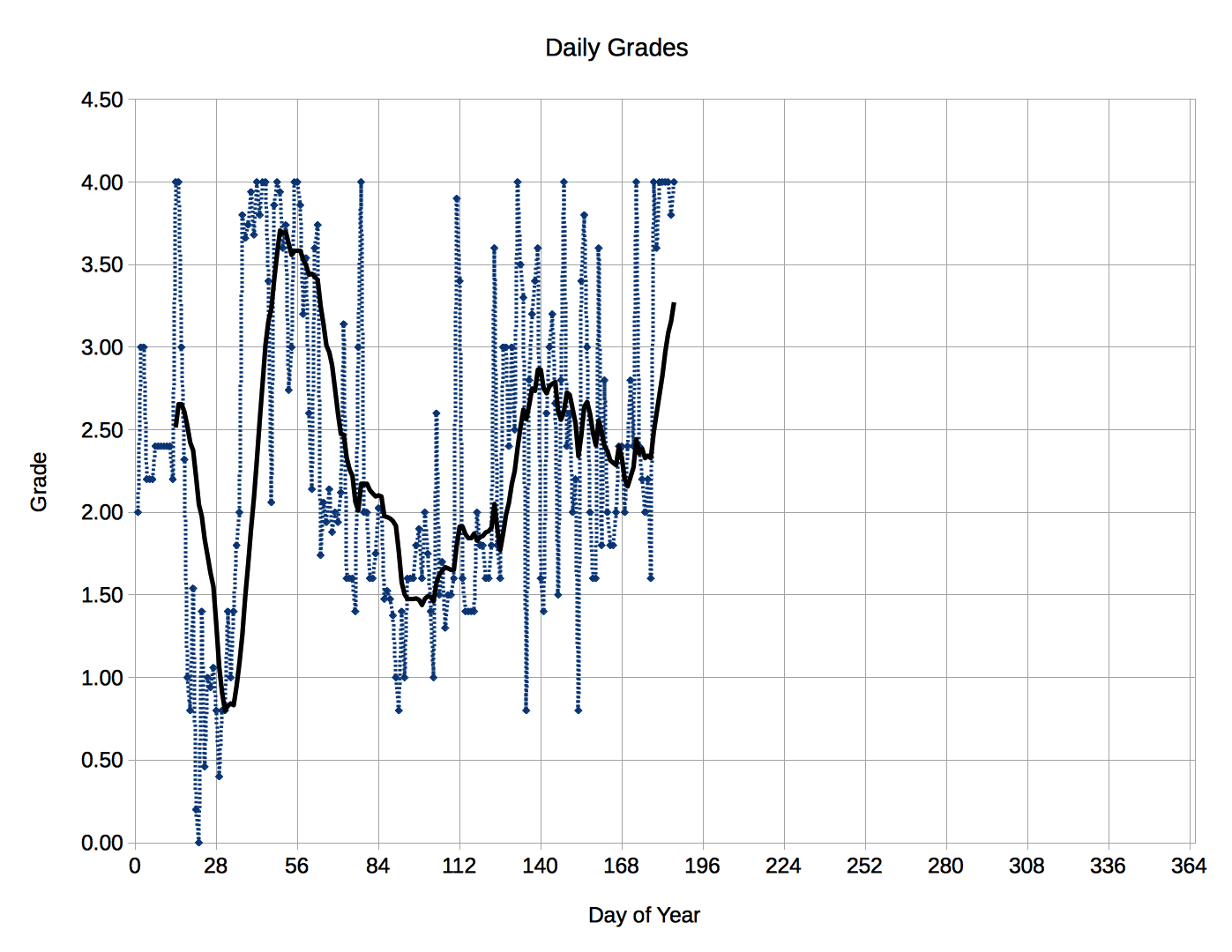 You can clearly see my February surge but the subsequent fall off elsewhere.  While I track this in four week increments I've decided to look at it strictly from a week to week perspective for the time being.  Looking at longer trends forward allowed me to fall into the "I'll get to it later" mindset rather than having it be a nice carrot (or stick) to get me compliant in the short term.
As I work towards dialing in my health I'm hoping to blog more about what I'm cooking, what I'm doing, and my thoughts as they come up on the matter rather than just writing them down in my personal journal.
Here's to the beginning of another successful week on the new fitness journey!