I'm trying to dial back in my diet a bit. As part of that I'm reviving my attempt to diversify my nutritarian diet recipes. I have my go to Nutritarian Black Forest Mushroom Soup recipe that I make even when I'm not in a dialed in diet mode along with a few others. I wanted something more. Flipping through the recipe section of Eat to Live my eyes and stomach were drawn to the Easy Three Bean Vegetable Chili (alternate link here ). I've used it for some inspiration for my own Impossible Meat based three bean vegetable chili recipe below.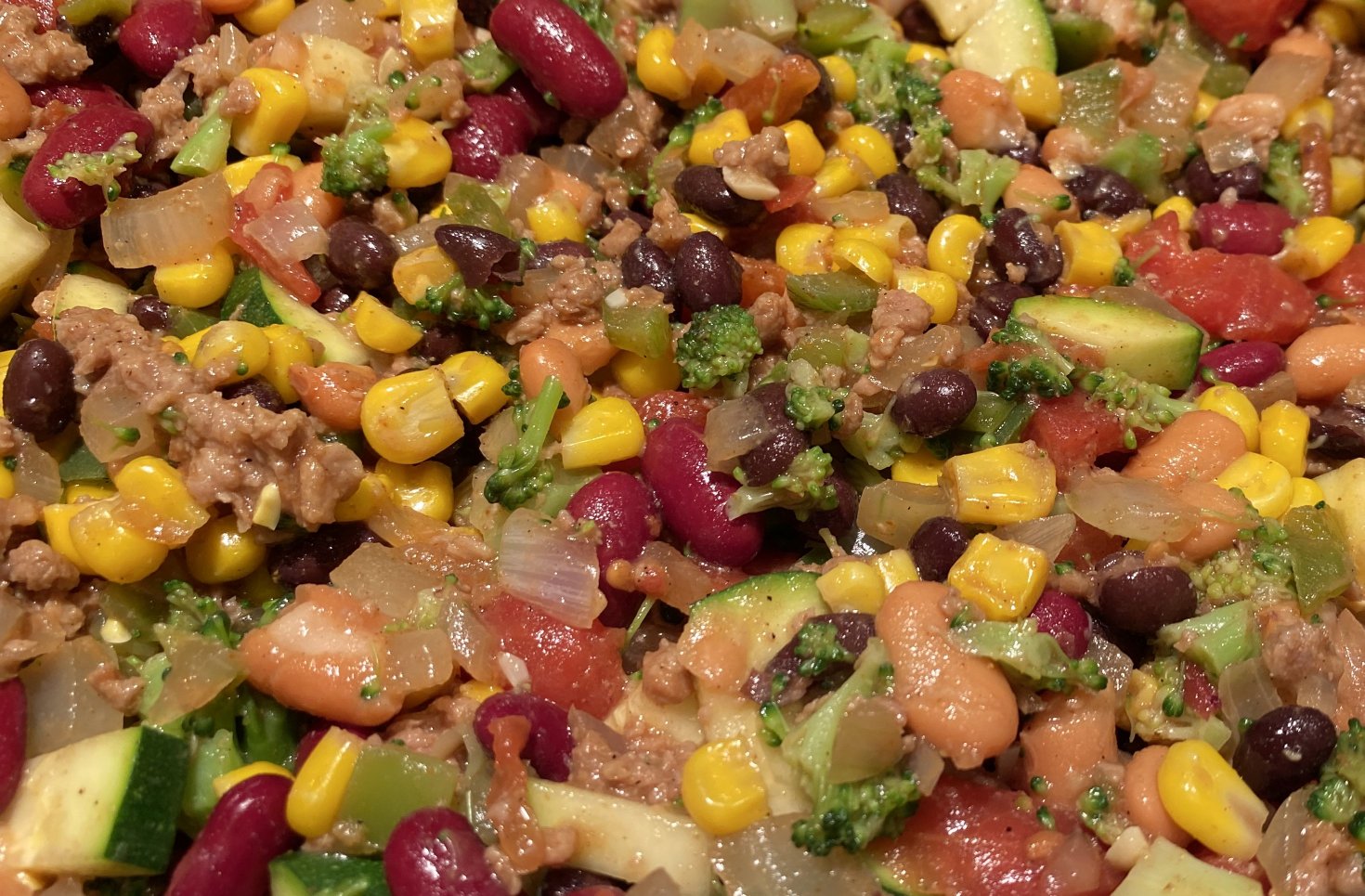 Makes 4-6 servings
Ingredients
1-2 onions (about 20 ounces in total) chopped (or 2 bags frozen)
4 cloves of garlic chopped
One 12 ounce package of Impossible Meat (thawed if frozen)
1 28 ounce can of no sodium added diced tomatoes
1 large or two small zucchini (about 12 ounces in total) diced
1 can of low/no sodium added black beans, rinsed and drained
1 can of low/no sodium added pinto beans, rinsed and drained
1 can of low/no sodium added red kidney beans, rinsed and drained
10 ounces frozen chopped broccoli
2 fresh sweet peppers chopped or 10 ounces of frozen sweet pepper
15 ounces frozen corn
5 teaspoons of chili powder
3 teaspoons of cumin
(Optional) 1 tsp of hot pepper or more to taste
(If not going nutritarian) Salt/pepper to taste
Directions
Put a large pot on a large burner at medium heat
Add 3-4 tablespoons of water and immediately add onions
Saute onions for 2-3 minutes until they start to become translucent. If they start sticking slightly add another tablespoon or two of water.
Add chopped garlic and sauteed for 30 seconds to one minute
Add Impossible Meat. Stir to break up and brown for 2 minutes
Add in the chili powder and cumin. Stir and fold into the meat/onions
Add in all remaining ingredients. Stir to incorporate
Let the mixture come up to a simmer at medium heat (10 minutes or so) then turn it down to low to medium low to maintain a simmer.
Simmer for at least 1 hour but preferably up to 2 stirring very occasionally.
Serve hot
NOTE #1: This is a nutritarian recipe which means there are no added oils or salt. All the flavor is coming from the vegetables, Impossible Meat, and whatever spices you add. It is very easy to turn this into a traditional recipe by adding back in the regular fully salted ingredients, sauteing with oil, adding salt as cooking, etc. I have some comparitive nutritional analysis below on the various versions.
Note #2: It's possible to make this with all frozen/canned vegetables or all fresh vegetables. The weights should be comparable for frozen to fresh, or in the right ballpark. Feel free to swap out as desired.
Nutrition
The below nutrition calculation is for the recipe being divided into four servings with the ingredients being: fresh onion, fresh zucchini, frozen corn, frozen peppers, water sauteed, with no added salt. All of this analysis is performed in Cronometer . First is the standard FDA format food label: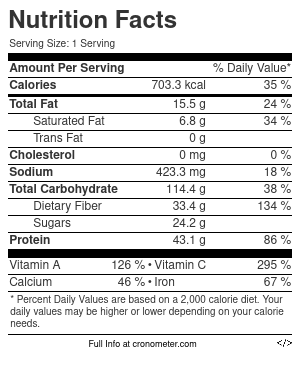 For comparison on the sodium levels:
164 mg (7% RDA) for the original recipe with tofu instead of Impossible Meat had 164 mg of sodium per serving
424 mg (18% RDA) for my recipe above
1333 mg (58% RDA) for the above recipe with all low/no sodium products swapped out for regular but no other salt added.
Next is the full nutrition break down. The tempature chart next to each nutrient is showing compared to how much one should get of that in a given day (RDA):