I'm finally getting around to writing about the end of my fast. First up is the highly nutritious, low sodium, 100% plant based soup that I ate throughout the day on the two transition days: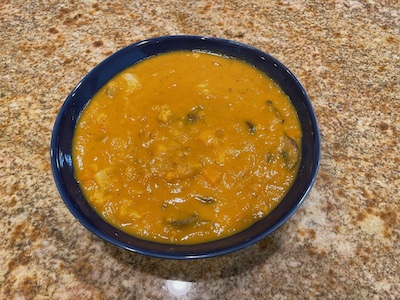 A big part of a water fast, or the "Longo Inspired Cancer Avoidance Fast" I came up with for myself are the transition in and out days. As I wrote about in that article, for my fasting design I wanted to replicate the transition in day based on the first day of Longo's Fast Mimicking Diet and a transition out day based on a standard day in the fast mimicking diet. The difference between these two days, with respect to macronutrients, is essentially the extra fats and proteins from a couple of ounces of nuts. Essentially then I created a recipe for a batch of hearty vegetable soup that can be eaten for the various meals and snacks for those two days. This recipe is inspired by the Golden Austrian Cauliflower Soup by Joel Furhman.
It makes 13 cups of soup which can be divided as necessary for the purposes of each of the transition days, which is different. The total calories for this recipe is 870. The total protein is 30 grams. The total fat is 34 grams. The total carbs is 103 grams. Total fiber is 40 grams, or over 105% of the recommended daily value for fiber, and a lot more than most people eat. One should therefore consider if this recipe is right for them since it can be a big adjustment eating so much extra fiber even without the background of a fast surrounding that change.
Ingredients
1 large head of cauliflower or about 28 ounces of pre-cut flowerets
2 large carrots diced (about 5 ounces after dicing)
4 medium stalks of celery diced (about 5 ounces after dicing)
1 medium onion diced (about 6 ounces after dicing)
2 garlic cloves minced or 1 tsp garlic powder
2 leeks sliced thin and clean, white and light green parts only (about 8-10 ounces after slicing)
4 8.5 ounce cans of V-8 style vegetable juice, preferrably no sodium added variety
8 ounces of mushrooms, sliced
2 tablespoons of olive oil divided into 1 tablespoon increments
1 - 2 tablespoons of salt free seasoning like Dash Italian Seasoning blend
1 teaspoon of salt substitute or salt, preferrably salt substitute
2 packets of vegetable bouillon, preferrably no salt variety
3-4 cups of water
pepper to taste
Instructions
Add the first 1 tablespoon of olive oil to a large pot set on medium heat.
Add in the onion, celery, and carrots. Stir until sweated and the onions start becoming translucent, about 5 minutes.
Add leeks, cauliflower, juice, salt free seasoning, salt/salt substitute, and vegetable bouillon. Pour water in enough to barely cover all the veggies and stir.
Increase heat to medium-high/high to bring soup to a boil. Then immediately reduce down to lower and cover. Simmer soup for 20-30 minutes, until the cauliflower is tender.
While the soup cooks, heat a frying pan on medium heat.
Add the remaining 1 tablespoon of olive oil to the pan. Add the garlic and cook until fragarant, about one minute.
Add the mushrooms. Sprinkle with some salt substitute or salt and a sprinkling of cracked pepper. Continue cooking until mushrooms are fully cooked and all the expressed water is cooked off, about ten minutes. Then turn off burner and set aside.
Once the soup is finished boiling, remove from the burner and puree 2/3 of the volume in batches in either a high speed blender, food processor, or with a stick blender.
Once the soup is pureed return to the heat on low. Add in the mushrooms. Let cook for another ten minutes at least before serving.
Notes
The difference between using the salt substitute and low/no added sodium versions of the juice, salt, and bouillon is profound. With the above recipe there is about 675 mg of sodium, 45% of the recommended daily intake. With real salt and the full salt version of vegetable juice and bouillon it is 6030 mg of sodium. That's literally ten times more sodium than the original recipe and four times more than the recommended daily intake. Especially when used as part of a fasting protocol one should be cognizent of that.
The pureeing of the soup is an important step for making this smooth and creamy. The soup will be scalding hot so must be done in small batches if using a high speed blender or food processor. The high speed blender will produce the creamiest soup consistency with the worst being the stick blender.